Dog Training Services in the Milwaukee and Waukesha Areas
Canine Companion Classes for Every Need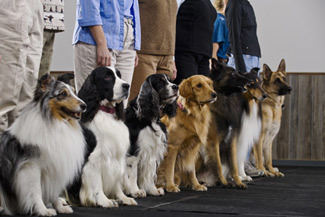 Rogue Dog Training is a full-service dog training company offering private lessons to dog owners in the Milwaukee and Waukesha areas. All classes are taught by APDT professional member and ABCDT certified dog trainer Steve Terwilliger using reward based methods. No prong collars are used or allowed at any Rogue Dog Training obedience class. You and your canine companion will enjoy this fun class while building life-long bonds and a harmonious relationship. Owners will be provided with a book detailing the lessons covered in class so you can continue training after the session is over. If you are unsure which class is right for you and your dog, contact Rogue Dog Training to help you choose the right training program.
General Dog Training Class Overview
Classes are open to all breeds. Dogs must be at least 16 weeks old to enroll, but there is no maximum age limit. Puppies and older dogs are mixed together in group lessons to allow better socialization among canines of all ages. All classes last approximately one hour, but may be longer or shorter depending on energy and attention levels. Overly aggressive dogs will not be allowed to participate in group lessons, but Rogue Dog Training does offer private lessons to even the most aggressive dog. A no obligation, free consultation is offered before scheduling personal, in-home classes and proof of rabies vaccination is required before the consultation. Information specific to each class can be found below.
Basic Obedience
Basic obedience is a foundational-level private course appropriate for all dogs. Lessons covered include come, sit, stay, down and many more commands. Teach your dog the essential commands in a fun, exciting class using reward based techniques from the comfort of your own home.
Shy and Reactive Dog Training
Some dogs are very shy or fearful while others overreact to specific stimuli. Shy dog training focuses on increasing communication between you and your dog to overcome canine anxiety. Reactive dog training will help your dog resist the urge to lunge or bark at specific things and is a great follow-up to the basic obedience class. Puppies and older dogs alike benefit greatly from shy and reactive training classes.
Dog Potty Training Consultation
Canine potty training consultation is not a class per se, but Rogue Dog Training will come to your home and help you create an environment conducive to house breaking your puppy. Older or rescue dogs which urinate or defecate in the home are also great candidates for a potty training consultation.
Unwanted Aggression Reduction
An overly aggressive dog is a risk to animals and humans. This class is geared specifically towards reducing and ultimately eliminating unwarranted aggressive behaviors. Younger dogs with budding aggression issues are ideal candidates for unwanted aggression reduction training.
Group Obedience Classes
Group classes feature the same lessons as private basic obedience class, but with the added benefit of canine socialization. Any dog may enroll in beginner group classes regardless of breed as long as they are at least 16 weeks old.