Milwaukee Dog Obedience Class Trainer - Steve Terwilliger
Milwaukee Certified Dog Trainer with Psychology Degree: A Rare Breed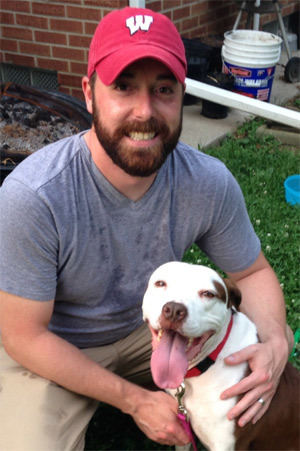 Rogue Dog Training's Steve Terwilliger is an exceptionally rare breed of dog trainer. He is a professional member of APDT and an ABCDT certified trainer, and holds a degree in psychology from Kent State University. His studies in psychology led to a deep understanding of classical and operant behavioral conditioning and its effects on animals.
From Behavioral Psychology to Puppy Training Class
The journey from psychology studies to offering certified dog training classes was easy for Steve. Animals had always been important to him and a large part of his psychology coursework involved studying the ways animals learn. Shortly after graduation, Steve attended Animal Behavior College and became a Certified Dog Trainer. From there, he entered the pet care industry as a dog handler and was quickly promoted to kennel manager. Several years of kennel management let Steve realize his true passion was training dogs – and so Rogue Dog Training was born.
Rogue Dog Training offers private, in-home dog obedience lessons to pet owners in the Milwaukee and Waukesha areas. All classes are taught using rewards and praise, guaranteeing a fun experience for dog and human. Basic and advanced obedience classes for dogs of all ages are available to teach and sharpen simple commands like come, sit and stay. Behavior specific lessons are offered to overcome canine shyness, unwanted aggression and overreaction to certain stimuli. If your dog bolts, barks too much or is afraid of everything, Rogue Dog Training is here to help.
The Only BAT you should Ever Use to Train your Dog
Many dog training tools are merely gimmicks, and some actually cause harm. Steve uses only the proven technique of advanced dog behavior adjustment training (BAT) to produce long-lasting results in even the most difficult dogs. Using rewards like treats, toys, or praise, the dog learns what behaviors it should and should not engage in. This positive reinforcement has long-lasting impact and teaches the dog to WANT to make good decisions even when the toy or treat reward is removed. BAT training can be used to curb unwanted behavior including: shyness, barking, bolting and aggression. A proper understanding of behavioral psychology, coupled with dog training certifications always produces better results for dog and owner. Rogue Dog Training's reward based training methods are the best way to teach your dog good behavior.
Contact the ABCDT certified dog trainer at Rogue Dog Training for a free consultation about your dog's behavior.