Milwaukee Shy and Reactive Dog Training Classes
Difficult Dogs Meet their Match with Rogue Dog Training
Some dogs come into your home as the perfect pet. Others can be difficult at home and out on Milwaukee's streets. Whether it be fearful, nervous or overreacting, your dog's behavior can be improved with reward based training. Rogue Dog Training will meet with you to assess the situation and plan a series of classes required to address your canine's problem. In fact, reactive dog training is our specialty and makes up the vast majority of our cases. As always, the initial consultation is free and there is no obligation to book any lessons. If your dog attacks the cat, bolts, lunges on leash, cowers or hides, Rogue Dog Training's shy and reactive dog class is just what you need. Here is a short list of what people are saying about Rogue Dog Training's real life reactivity training.
Fearful Dogs Bloom with Reward Based Training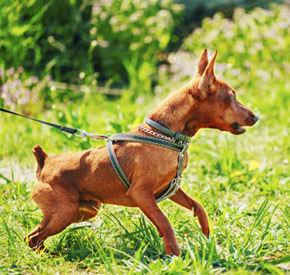 Nervous dogs require a lot of love and attention. They often hide or run away and using force to stop them only makes matters worse. The only way to help a fearful dog is building a long lasting bond with great communication and trust between canine and owner. Rogue Dog Training's reward based techniques are the perfect way to give a shy dog the confidence it needs to thrive. You will build a bond and develop the communication skills necessary to help your dog have a happy, healthy life. Timid puppies are not too young to benefit from this class. Training will help them interact normally with their environment as they mature. If your dog exhibits any shyness, schedule a free consultation with Rogue Dog Training to give your four legged friend a new perspective on life.
Reactive Dog Training Reins in your Dog
Humans, other dogs and even inanimate objects can cause a dog to overreact. Whether it's barking, bolting or pulling on the leash, reactive dogs are embarrassing and potentially dangerous. Rogue Dog Training has classes tailored to correcting your dog's reactive behavior. Private classes at your home and in your neighborhood, offer the perfect environment to isolate stimuli and learn techniques to avoid overreaction. Transparency is key when it comes to dog training, especially when dealing with a reactive or aggressive dog. No sketchy board and train options or overpriced "training" packages here. All reactive dog classes come with a free consultation to diagnose the problem and create a custom lesson plan to correct it. Reward based techniques focus on getting your dog to ignore the stimulus and behave well no matter what the circumstances. There is no way to get better results in curbing unwanted canine behavior than the reward based training offered by Milwaukee's Rogue Dog Training.
Schedule a free canine behavior consultation to find out more about our reactive and shy dog training techniques to correct unwanted behaviors.